Walking in Thüringen, Germany
In September 2009, five of us – three Australians, one Norwegian and one Briton – went on the 168 km walk known as "Der Rennsteig" in Thüringen, Germany. The Rennsteig is an ancient trail leading from Hörschel, about 5 km west of Eisenach, southeast along a wide and largely forested ridge, to the village of Blankenstein, near the Czech border. It was a trading trail, along the borders between three kingdoms (the territories of the Dreiherren).
Our arrangements were made by Footsteps Holidays in Melbourne. They have a package which includes all hotel reservations, luggage transfers, maps and other directions. All we had to do was to turn up in Eisenach the day before the walk started and make our way back from Lobenstein, near Blankenstein at the end. Basically we were walking from hotel to hotel; the only exceptions were when the hotels were off the track; in those situations the hotel staff ensured we were met in the afternoons and delivered back to the trail on the following morning, all included in the fee. Our only expenses were for lunch, dinner and, of course beer and wine. For us, everything worked with Teutonic precision. If the hotel staff said there would be a bus for us at 0800, that meant 0800. They knew to take our luggage on to the next hotel, where we might even find it already in our rooms. (If, at any stage a walker does not want to do the following leg, he or she can take a lift in the luggage vehicle.
These notes are for others who may be thinking of doing the Rennsteig walk, to supplement the description given in the Footsteps pamphlet on the Rennsteig. This is in a part of Europe that is still off the usual tourist circuit. Until 1989 Thüringen was in the old East Germany, not easily accessible to foreigners. Even though we had all been to Germany before, this was our first excursion into the countryside, into the Germany of neat little villages, into a region which has yet to share fully in the prosperity of modern Germany, but which shares with the rest of Germany a reputation for hospitality and an openness to visitors.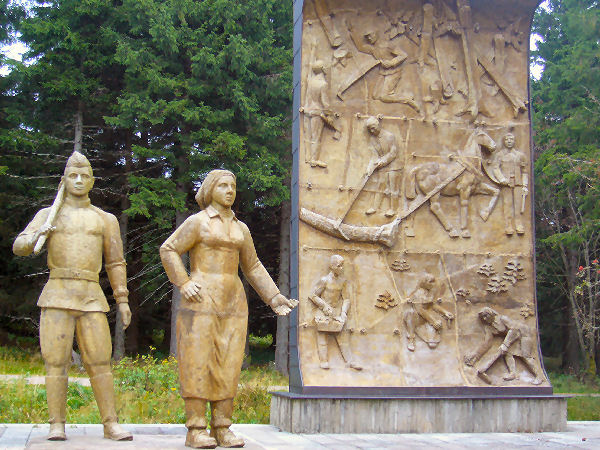 Bucolic Soviet Realism: this was East Germany
Brief description
The walk took nine days and eight nights. Daily distances varied between 15 and 28 km, but no day could be described as difficult. (Our ages were up to 64.) The Rennsteig is a well-laid out trail; we have very few such well graded trails in Australia. Some is on forest roads, and some is on dedicated walking trails. There were a few tiny patches of mud, and there were no very steep parts. Only about 5 km of the whole trail is near a main road; otherwise it is very quiet. When you get the maps (1:33 000 scale), you will see a huge network of trails; the Rennsteig is just one of them. Some of us wore boots, others wore sturdy shoes; if you are used to walking in shoes they would suffice.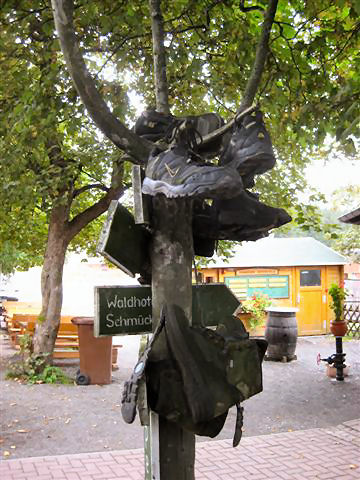 You will find a good footwear shop in Oberhof
The trail is well-marked with large "R" signs every couple of hundred meters, and there are some magnificent direction signs at the numerous track intersections. There are also ancient border stones (Grenzsteine) carved with the crests (Wappen) of the Dreiherren. There are many marked points of interest along the way. And there are quite a few small shelters (Schutzhütten) - handy if it's wet and you want somewhere to eat.
The first day involves a rise of about 450 meters from Hörschel (200 meters) to Schiller Buche (650 meters), and over the next few days it rises to a high point of 970 meters at Pläckners Aussicht on Day 4. The grades are easy; we didn't find any parts strenuous. Most of the walk is in forest; in the lower altitudes the forest is mainly hardwood, while in the higher altitudes it is conifer. Most of the forest is commercial forest, but there wasn't enough forestry work to disturb us; in our whole walk we came across only two places where there was some small scale forest activity.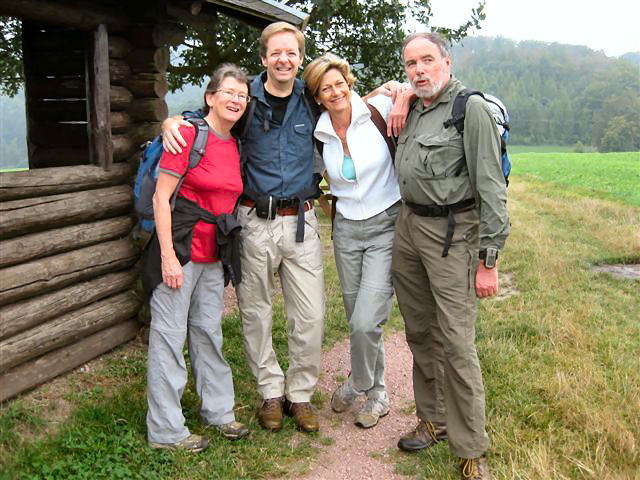 At a Schutzhütte (photographer absent)
Our group of five was the only group on the arranged tour at that particular time. We came across many others doing day walks, and some who were camping. We met one person going from Warsaw to Metz, but otherwise there were very few foreign tourists.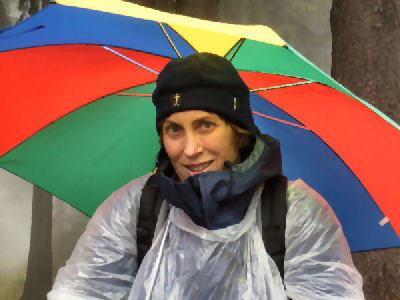 Our photographer, mit Regenschirm
Sleeping and eating
The hotels were all of a very good standard - clean, comfortable and quiet. For the most part they were small; only in Oberhof did we stay in a large hotel, Das Oberland, which one of was told used to be officers' barracks in the days before the Russians departed. (Our rooms had massive Soviet-era bedside radios.) If you have come to Germany for the night life, you won't find it in along the Rennsteig; it's a long way from Berlin and Frankfurt. (Because some of the hotels are small, different groups may be booked in different hotels.)
There was plenty of choice for dinner and breakfast, and a good selection of wines and beers. (After drinking some of the regional beers, you may never again want to drink our Australian commercial lagers.) We found the menus tended to be heavily represented by various cuts of pig (Schwein), and by potatoes (Kartoffeln). We also found an amundance of mushrooms (Pilz) on the menus. Whatever weight we lost walking we soon re-gained in the hotels. This is heartland Germany; don't expect to find a great variety of fare. But we did come across an Italian restaurant in Oberhof and a Chinese restaurant (run by Vietnamese) in Lobenstein.
A local custom you won't find in the guidebooks is table knocking. In Struth Helmershof in the restaurant of the Helmsrser Wirtshaus, we were puzzled to find other guests knocking on our table - as one may knock on a door. It's a local form of greeting; how local we don't know, perhaps it's be only within a few hundred meters of the village.
Breakfasts are generous serve-yourself affairs, and the hotel owners and staff were quite happy for us to take a few bits and pieces to put in our packs for lunch. In fact they were happy to fill a vacuum flask with coffee. But even if you don't pack any food, you will generally find something on the way (eating places marked on the maps). In the lower reaches there was no shortage of wild blueberries and the occasional plum tree along the way.
One of the gastronomic delights of Thüringen is the Bratwurst, a fried sausage served with bread or a roll. We found Bratwurst stands in village squares, in car parks and outside shops.
Stasi Trabbi – the towbar is an expression of faith in socialist engineering
Language and people
This is the old East Germany. Many people are bilingual, but that means their second language is Russian. (Unlike other Eastern European countries such as Hungary, East Germany was not even a separate country within the Soviet Bloc; rather, it was under military occupation.) If you have some German from school, retrieve it from the depths of your memory. And, unless you are fluent, along the trail you will come across signs with words you are unlikely to have learned at school. Words such as Grenstreife (border patrol), Hexenring (fairy ring), Holzweg (logging path). We carried a small dictionary, which was really useful for following the many signs. Even if you know no more German than Guten Tag and Danke Schön, you'll get by. In fact it's one of the few remaining parts of the world where people are amazed to meet Australians.
In most of Germany, including the east, young people have studied English. But, like Australian country towns, this area is demographically old. Only in Eisenach and in Oberhof (a ski resort in winter) will you find a mix of ages.
On the Wallaby Weg
Weather
You will find a five day weather forecast, in English, for Erfurt, on the WMO website. Erfurt is about 40 - 60 km northeast of the Rennsteig ridge. Remember that it will probably be about four to six degrees cooler on the ridge than it is in the nearby cities. In our nine days we had excellent weather - mostly overcast, with only one day of rain and three days of light mist. On some of the very high points there was a sharp breeze, but for the most part there the trees provided a break. The region is well-known for local fog, but we never experienced anything thick enough to spoil our enjoyment. In fact, for the three Australians, coming from a long dry spell, it was rather a novelty to enjoy some fog and mist.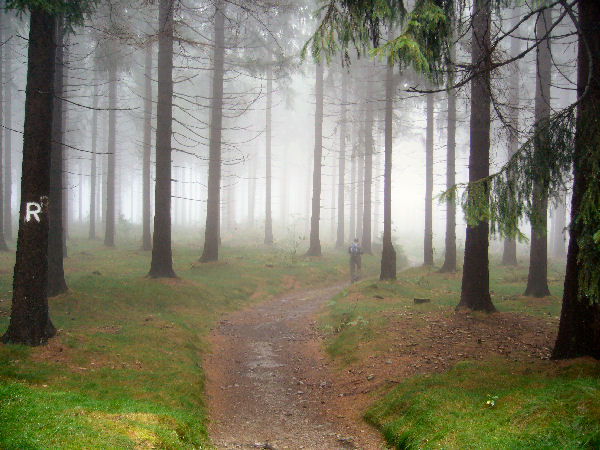 Note the R
Stuff to see
There are many places to stop along the way. Some of the more outstanding points were:
the Stasi Bunker (Das Bunkermuseum) about two km before Frauenwald. If you think the Stasi enjoyed a privileged life, see the Bunker; it makes the Puckapunyal Barracks look luxurious. By contrast we all found the Dreikronen Hotel in Frauenwald, to be our favorite.

the remnants of the old East/West German border on the second last day where the track wanders in and out of the states of Bayern and Thüringen;

various pieces of Soviet realist sculpture; undoubtedly they have preserved them more out of curiosity rather than affection;

Trabants, the old East German made car. It's even worse than the Mini-Minor. A two stroke engine, a plastic resin body, the acceleration of an aged Clydesdale pulling a logging cart, a filthy exhaust. But the East Germans loved it; unless they were senior in the Party they had to wait 15 years to get a Trabant. They are now collectors' items. If you see one in a parking lot, look but don't touch; they're delicate;

the point where three river catchments meet -- the Elbe, the Weser and the Rhein, marked by the Dreistromstein just before Limbach. Nothing spectacular, but when you consider the history associated with those rivers you realize you're somewhere special;

Limbacher Porzellan visitor centre, a museum at Limbach, with some of the region's porcelain on display.

The end at Blankenstein, crossing the Saale
Getting there and back and other travellers' tips
Eisenach is easily reached by fast train. The German fast trains, the Intercity Express trains operated by DB, provide one of the few opportunities for Australians to enjoy the train service we should have had.
It's only a two hour drive from Frankfurt. Car rental is easy; the big companies allow one way rentals and in most cities the depots are near the railway stations. If you rent a car in Germany pay a little bit extra and rent a GPS system. After we finished the walk in Blankenstein and stayed overnight in Lobenstein (a very short train ride) we took a train to Saalfeld, where we picked up another car. Out of curiosity, we decided to drive back to Masserberg, about the middle of the trail. In a straight line it's only about 30 km. Three hours later, after diversions around roadworks and crawls through village roads just wide enough for our VW with rear vision mirrors folded, we arrived at Masserberg. That's when we realized just how isolated and out of the way are the villages along the Rennsteig. (Through traffic passes right under the Rennsteig in long tunnels for the Autobahn and the fast railroad.)
It could be well worth your while to add a day in Eisenach at the beginning of the walk -- arranging privately to stay in the same hotel as booked by Footsteps. (We were booked at the Glockenhof.) Eisenach is in serious Bach country. JS Bach was born in Eisenach - you can visit the Bachhaus in the middle of town. Apart from a short stint in Lüneberg near Hamburg, Bach spent his entire life in this region. And dominating the city is the Wartburg Castle, a classic German castle, founded in 1067 by Ludwig der Springer. (Ludwig the Leaper, reference to whom you will find in several places along the Rennsteig.) It was in the Wartburg Castle that Martin Luther took refuge after he was excommunicated, and where he translated the Bible into German -- a risky career move in 1521. Goethe was one of the castle's house guests in 1777. In 1817 it was the gathering place for the Wartburgfest, a gathering of students who started Germany on the long road to unit and democracy. The Wartburg Castle is on a hill overlooking the town, a 40 minute walk will get you there.
Remember that once you leave Eisenach you are off the tourist route. The Internet is virtually unknown. (We found a public Internet in the foyer area of the big hospital in Masserberg.) There is good cellphone coverage along most of the walk.